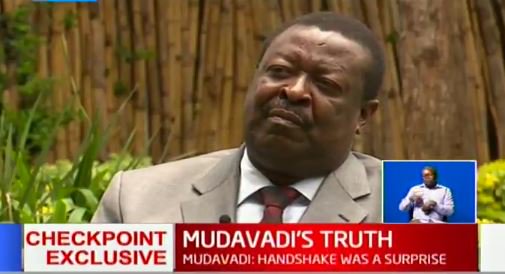 Checkpoint's Yvonne Okwara Matole sat down with Musalia Mudavadi in a pre-recorded interview. The interview was a first since the handshake of Uhuru and Raila. The 40 minute interview expounded on a number of topics here are some of the snippets in case you missed it;
His view on the handshake
He was very cagey with this one. He seems to reiterate the talk points that he has been reiterating in his pressers. He was very insistent on the need to have a well structured dialogue that would involve each and every person.
Asked if he was the one to deliver such he started beating around the bush. He seemed not to want to answer this question. He however came out clearly to say that he would prefer the dialogue to have a framework that would be all inclusive and one that would include all Kenyans in the process.
On his relationship with Raila
His relationship with Raila Odinga was also put into perspective. He was straight forward that they are still in a good relationship. He seemed to be very silent on whether they are still in NASA together. He was very silent on the matter altogether and was very cagey on this matter also.
On the election reforms
Mudavadi seems to be very open about this one. He was articulate and seems to have the issues on our elections at hand. He seems to have the 'problem' in mind and how it can be solved. He insisted there is a need to change the way we do our politics. The need to have a very independent Electoral system and what he thought could be done to improve it.
On the swearing in
Mudavadi was very silent and tended not to give a definitive answer. He seems to insist that he did not believe in it at all. He even went on to point out that it was not really constitutional. Asked if he thought it was not legal to him. He took a long time to answer that one with a lot of non specific answer. He even seemed not to believe in it.
On NASA and the merger of ANC and FORD Kenya
Musalia was very evasive when he was asked about whether NASA is still on course. He was very silent and did not seem to talk about this matter. He seemed to think that people in Nasa now need to make sure they have done something to keep it alive. He also seemed to think the junior soldiers in NASA have lost their respect for the principals.
He seemed to believe it is high time that leaders in the western community have become united for one course. He seemed to believe in this. When he was asked if he was a political leader he was very categorical to point out the nature of our political leaders to make everything tribal.
I would rate the interview a solid 8.5/10. Yvonne was thorough in this interview. she did a stellar job throughout the interview which was a good thing.