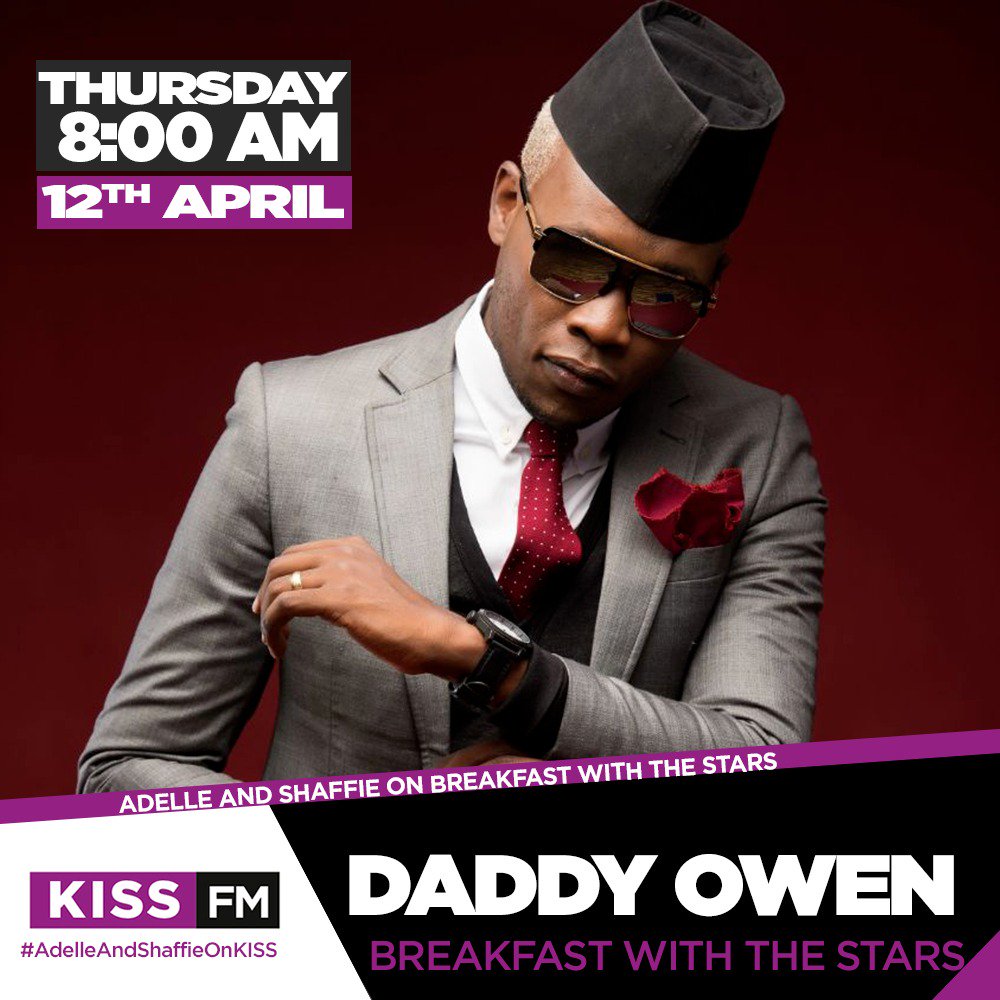 He is well known in the music industry. I have literally grown up listening to him. Daddy Owen today graced Kiss 100's Adelle and Shaffie's show. I literally learnt a few things about him that absolutely left me wondering what else I don't know. Anyway here are the snippets from the interview:
His first stage name was Street Kid.  I know right sounds a bit awkward guys but yes that was his name. He used to sing a lot of reggae and raga. He however got to a point where Shaffie and a few of his other friends now told him to stop singing what he was singing because it was not working. That is when he decided to change everything and turns out it worked.
He has been in the industry for the last 15 years. He has literally been there all my life. I'm not 15 obviously but he has been there for a long time.  He has grown from songs like Shillingi ya Kenya to other hits like System Ya Kapungala and many others.
He has worked with Delvin of Sauti sol. He worked with him and was his dancer at some point in his career. Other people he has worked with are Alice Kamande and many others as his dancer.
His hit song Saluti which saw him win 4 Groove Awards in 2011 was meant to be a regionally balanced song. He  worked with all people from different walks of life in order to make the video more lively. From eastern represented by Kambua to coast represented by Masha Mapenzi to Western Jacky Kortira  Rift Valley, Emmy Kosgey and Central, Esther Wahome.
He is not shy that some of his songs have been written by other artistes namely Pitson who wrote for him Vanity and Bien Aime of Sauti sol who has written his latest single Mungu Yupo. He has been very open that the music industry needs to be strengthened and that other artistes need to start accepting that some songs have been written by other people.
Will he billing to do a collabo with Rufftone? To him that was a no no. He thought that it might end up being controversial. He also did not think that it would be that good to his career.
Finally you will never get bored when you have Daddy Owen as a person you are interviewing. He is free, open ad did not hold back during the interview. He definitely did a good job in the long run and Shaffie and Adeellle did a good interview.
Rating
I would give the show a total of 8.5/10. They (Adelle and Shaffie) were funny and bubbly and left no stone unturned which turned out great. However they did not ask some questions like the state of the gospel industry and many others.