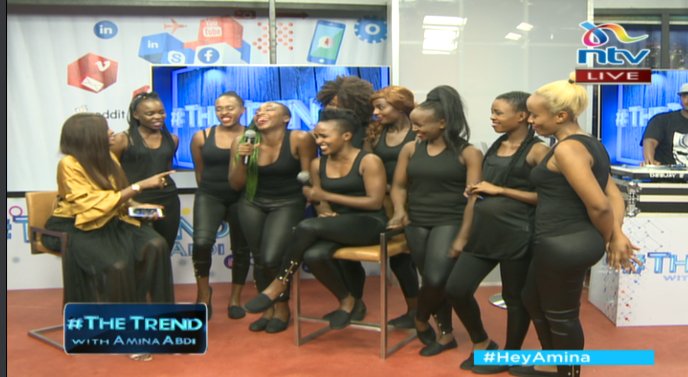 The Trend at 10:00 was the best edition so far and it was very interesting. It was a bit different with a lot of conversations on things that matter.
It was the first time for many guests who were coming to the show now under Amina Abdi. Willy Paul, GQ Dancers and Juliani who was the first guest for the Trend with Larry Madowo graced the show. It was the first time for Dandora Hip Hop City to come to the show.
The show kicked off with a performance by Willy Paul who performed a couple of songs. The performance was nice and then the interview kicked off. Amina Abdi has a very funny way of asking questions on her own show. She asked him about his controversies in the music industry. His new style of doing songs with secular artistes and whether it is something he has deeply thought about.
She also about something many people have been wondering about; his new and favorite items of singing which is mostly about finding a wife.  So turns out he is now dating and may be marrying in the long run. So we might be now listening to a different perspective of his music.
On the show also were the GQ Dancers who gave one hell of a performance when the show started. The show has welcomed them for the second time. They have been on a roll a lot and have decided to host a dance competition which will be a chance for one person to win 20,000. My favorite part of this interview was the part they tried to counter Pascal Tokodi's Street Karoke which was a riot by the way. They sang Who Runs the World. which is a Beyonce track which is a girl child empowerment song.
Dandora's very own Juliani also showed up on the Trend. If you don't know Juliani then you were probably young or didn't listen to the right people when you were young. Anyway good news is he is doing a show at the Elephant dubbed " Four Albums Four Days" the entire show will run for Four days as he gives out  four performances for Four albums he will be releasing next year.
He also talked about his work with the Dandora Hip Hop city who were also part of the show. The show was very interesting especially their freestyles. The group represents the best faction of hip hop in the country I believe so. True raps true hip hop vibes.  Juliani has been helping them set up and running the whole project as part of his community development agenda.
My rating
I would rate the show a definite 8.5/10 or being very thorough, not sticking to the old artistes promoting new talents. It was a definitely one of Abdi Rabar's best shows. She brought her A game to the show.